A Fistfull of Points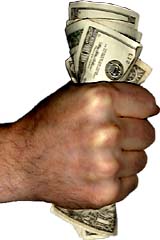 I missed the "everyone show up at noon" gaming session, but was able to make it after work. I showed just at Ted was leaving, which left us with four, and a game of
Tichu
began. Michael led off an unorthodox "wish for something fun" strategy, playing the mahjohng and calling for random things he HADN'T passed to his left. It actually worked quite well 3 of 5 times, and only mildly stung his partner (ME) once. We called the game early before Brian and Jon could stage a come-back once Ben showed up, but my favorite Tichu trick ever made it memorable. Brian had called Tichu, and was well on his way unopposed. He led a full house, 10's full of 5's - 40 points right there. I countered with Q's and 3's... But Brian was prepared - he laid down K's & 8's - now the hand is worth 70 (out of 100 possible per hand) points - at which point I bomb in with
2
2
2
2, and play the Dog to let Michael go out, breaking the Tichu... So one trick stole 70 points, and set up the -100 for the opponents.
Jon decided to bow out, and with the arrival of Al we had five - this led to the obligatory
Stage II
, where we discovered that you people have played this much too often - starting from opposite ends of the box we've officially met in the middle and are out of cards. It didn't help much on the answers to the questions, but made guessing the theme easier.
Minus Ben,
Phoenicia
followed with the random beginning money variant, and I engaged in the only good strategy I know - buy both trackers, and a bunch of workers. Luckily my opponents were trying to save money, so delayed auctioning off both of the forts during my low-dollar phases, so the game paced itself perfectly for me to pull out a two-point win... I thought up a strategy question - the items that buy you a large discount - everyone knows that you now NEED those items, and bid you up - does this negate the value of the discount items? I suppose this applies to items that others don't require to win, else they've got to bid over you... but if no one wants it, and just bid it up to a "retail price" level, has the discount helped at all?
Michael had to jet (how did the cat situation turn out??), but Jon returned and next to the table was
Ticket To Ride: Marklin
. Al had limited experience with TTR, and I've only played the
original
... after a quick rules recap we were off. The passenger riding is a new twist that I didn't plan well for - Brian and Jon were competing for some big opening points quickly with some well-timed travels. It seemed like everyone needed to cross paths in the southwest corner of the board, as we went from no trains down to about ten different links in that region. I believe it was Brian who brought up that TTR is a giant game of chicken - how long can I wait before you block my route? Jon got connections into three different countries, and completely blocked Denmark from anyone else entering, which limited the long routes available to others. Coming down to the end everyone kept drawing destination cards trying to soak up some extra points, and Jon kept drawing already completed cities... It all came down to the route scores, and although Jon and I tied on number of completed routes, I had one more long route than he did, and squeaked out a victory... ironically, if he had kept his fourth destination card at the beginning of the game (for which the cities needed were linked by his trains at game end) he would have earned a 22 point card, plenty enough to pass me up.
Finishing up the night was
Glory to Rome
, where Sean gets distracted by all the cool abilities of the buildings he is creating, and ignores the end-game conditions of actual victory points. Brian and Jon ran away with it, Jon with patrons and Brian with his vault, but the vault strategy paid off. I think I almost understand the entirety of this game now, but of course everyone else has played it to death...
As the night wrapped up, it was suggested I should buy a game that everyone wanted to play... :) I'm actually not opposed to the idea, as I'm happy to contribute to the group's enjoyment and all of my "gamer's games" are a few years out of date to y'all. But nothing persuaded me yesterday - maybe some suggestions here are in order, so that I can browse the info and reviews online, and pick out a game or two.
Labels: monday, ownage, session report